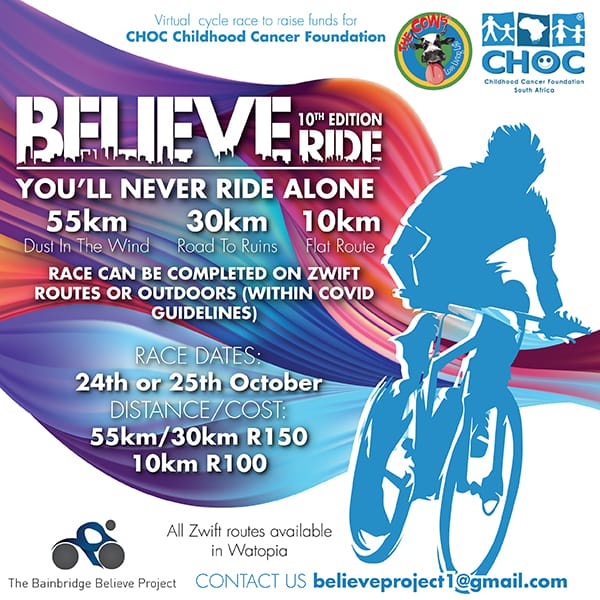 Our 10th year was supposed to have been an almighty moo-velous mass-participation celebration, but unfortunately, in the age of COVID-19, we have been placed in the situation where going virtual is the best option available to us.
With this being a fundraiser event, we rely on mass participation to raise the funds needed to support CHOC Childhood Cancer Foundation, and with current lockdown restrictions, it is simply not possible to host an event that will generate the funds needed.
We have therefore looked at Zwift to find routes that are reflective of the routes at the usual event venue, Northern's Farm, and will be co-ordinating times to allow people to ride together if they choose.
| Name | Race Number | Distance | Cycle Time |
| --- | --- | --- | --- |
| Graeme Holthausen | 302 | 30km | 00.50.41 |
| David Hearn | 304 | 30km | 01.21.06 |
| Sean Venske | 311 | 30km | 01.30.27 |
| Kymberlie | 308 | 30km | 01.34.47 |
| Gail Diedericks | 107 | 30km | 02.14.00 |
| Melanie Perfect | 1073 | 55km | 01.45.17 |
| Jeremy Pointer | 1084 | 55km | 01.51.55 |
| Talita Botha | 1078 | 55km | 01.52.44 |
| Francios Stephanus Krause | 1076 | 55km | 02.00.55 |
| Bradley Jones | 1063 | 55km | 02.07.00 |
| Gericke Hoeksema | 1089 | 55km | 02.13.00 |
| Dawn Harris-Slabber | 1062 | 55km | 02.32.39 |
| Thinus Els | 1059 | 55km | 02.55.00 |
| Jacqui Walton | 1079 | 55km | 03.03.54 |
| Lorian Mumford | 1092 | 55km | 03.36.00 |
| Belinda de Broize | 1093 | 55km | 03.38.00 |
| Graeme Yates | 1056 | 55km | 03.46.00 |
| Barry Janse van Rensburg | 1068 | 55km | 03.48.00 |
Why You Need to Get Involved?
The Bainbridge Believe Project was started in 2010, when Craig Bainbridge was diagnosed with terminal cancer. As Craig had been living abroad, he returned with no medical aid, and the project was started in order to raise funds for his initial treatment.
At the same time, the family became involved with the CHOC Cows, who raise funds tirelessly for children suffering from cancer. Craig was totally invested in this fundraising idea, and although he was suffering from this dreaded disease himself, he cycled the gruelling 947 race in 2010 while undergoing chemotherapy and radiation, and raised his own funds for the Cows. The success of The Believe Project's fundraising continued, and it became Craig's wish to direct all this fundraising to the CHOC Cows.
After Craig passed away in early 2011, the Bainbridge Project continued with its efforts, but instead of the typical golf days, etc, a new event was born in the form of the annual Bainbridge Believe MTB race. The event has taken place each year since then at Northern Farm, and has become a favourite amongst cyclists far and wide.
Although this year's race, which is the 10th edition of the event, cannot be held at Northern Farms due to the lockdown, we will continue to host the event virtually, and hope to make it the most successful event to date.
Our determination to help children in need has never wavered, and over the years, the Project has raised R1 million, all of which has been donated entirely to the CHOC Cows, to support their amazing efforts.
We remain thankful to all our supporters, especially entrants of the MTB race, and we continue to honour Craig in everything we do as we try to make life easier for others suffering this dreaded disease. Thank you for your ongoing support.
 And We've got Still More For You
Our official Media Partner, Modern Athlete Magazine, is fully behind our event and wants to give you a free subscription to both their monthly magazine, covering road, trail, track and multisport running disciplines, and their weekly newsletter filled with events and special offers, all sent to your inbox free of charge..

How Does it Work?
1.) Enter before the 20th October 2020.
2.) Receive your digital race number.
3.) All your race info will be sent via e-mail on the 21st October 2020, including our handy Race Digimag, which will have all the info you need to navigate our challenge.
4.) Ride your distance on the 24th or 25th of October  2020.
5.) Submit your results via our online form.
Your Entry Fee Includes:
Your Virtual Race Number.

Digital Finisher's Certificate

 

and Virtual Medal 

to all who complete the challenge.
A free subscription to Modern Athlete Magazine, sent straight to your e-mail addie!
Competitions and spot prizes along the way
Modern Athlete Free Monthly Mag
Subscribe to receive our free digital monthly magazine by providing your details below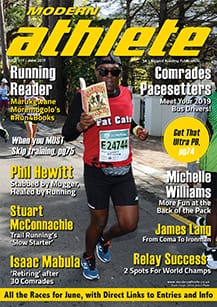 Please use the form below to submit your time for the Bainbridge Believe Virtual Race. If you are unable to share a url of your activity, you can mail a screenshot of your activity to info@modernathlete.co.za using your race number as the subject line, please still complete the form below!