Run, Cycle or Walk to Help us Raise Money for Bibles
Our 2020 event was incredibly successful with over 2000 runners, walkers and cyclists taking part in our first ever virtual event! Through contributions we were able to provide 2000 bibles to people in need as well as 2000 literacy books specifically for children, that's 4000 lives changed through your support.
This year we want to bigger and better! Our 2021 event continues to support the Bible Society's goal to distribute 2 million Bibles in celebration of their 200th year. 
With the Covid19 pandemic, we are still not able to hold a mass event, but included in our virtual event we have included 6 mini-live events throughout the country! Events will be limited to 200 runners each and offer a 5km route, with all COVID 19 Protocol being followed. The events are listed below and can be found on the entry site.
Midstream Estate 5km 
Bible Society Johannesburg 5km, 

8 Anemoon Road, Glen Marais Ext1

Bible Society Bloemfontein 5km, 220 Nelson Mandela Drive

Bible Society Durban 5km, 70-76 Ramsay Avenye, Mayville DBN

Bible Society Cape Town 5km, 134 Edward Street, Bellville

Bible Society Port Elizabeth 5km, 31 Cotswold Avenue

 Those not able to attend the live event will be able to enter the virtual event and complete their chosen distance in an area of their choice. We encourage congregations to get together and to support this event to enable the Bible Society to spread the Word of God to communities across the world without the means to purchase Bibles.
The Virtual event aims to be inclusive for all walks of life, whether you want to do a family 5km walk or miss getting those long runs in, there is something for everyone! Make it a weekend for the whole family worldwide, click on your chosen distance below and Enter Today! 
Every entry taken guarantees that we will be able to assist the Bible Society with one Bible for either an individual or church in need as part of the 2 Million Bibles Project, for more information please visit http://www.biblesociety.co.za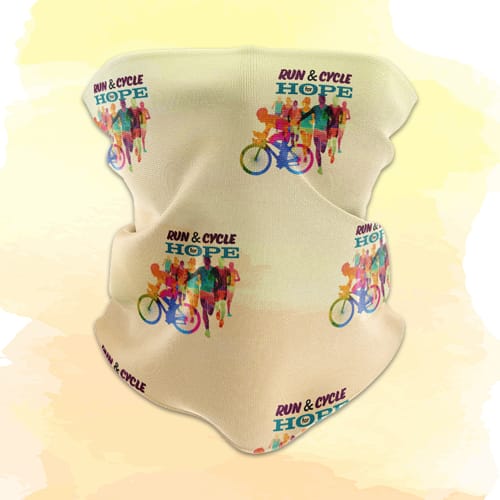 The 2021 edition of the event offers the following merchandise:
A Run & Cycle for Hope buff, which can be purchased with your entry at a cost of R60
A Run & Cycle for Hope moisture management tee that is unisex in size. You can purchase the tee with your entry at a cost of R165
Our commemorative medal celebrates the 200th year of the Bible Society. It symbolizes the journey we have undertaken to bring hope to South Africa through the Word of God and spreading his message in the form of Bibles to those that would otherwise have no access. It's a symbol of hope and a celebration of the journey thus far.
Merchandise ordered before the 1st July 2021 will be delivered before race day through Paxi our chosen courier partner. Any orders taken after the 1st July will receive their merchandise by the 1st October 2021, this is due to ordering only the quantities ordered by entrants. We are able to accomodate bulk couriers for bulk entries of 10 or more entries, please contact the race office to facilitate.
The Bible Society of South Africa's Vision
It is the task of the Bible Society of South Africa to provide affordable Bibles for everyone in their own language and in suitable formats so that all may experience the life-giving message of the Word.
Get in Touch!
Click on icons to follow us on social or to contact our race office by mailing info@runwalkforhope.com