Run, Cycle or Walk to Help us Raise Money for Bibles
Our 2020 event was incredibly successful, with over 2000 runners, walkers and cyclists taking part in our first ever virtual event! Through contributions, we were able to provide 2000 Bibles to people in need, as well as 2000 literacy books specifically for children. That's 4000 lives changed through your support.
This year we want to go bigger and better! Our 2021 event continues to support the Bible Society's goal to distribute 2 million Bibles in celebration of our 200th year. 
Due to the ongoing COVID-19 pandemic, and current restrictions we have taken the decision to Cancel our live events. This is to ensure all of our participants safety, the severity of the third wave and with the rampant spread of the Delta strain, we don't feel it responsible to host group events. Your safety is our number one concern. 
The virtual events will continue, all entrants can complete their chosen distance in any area of their choice. We encourage congregations to get together safely within restriction guidelines and to support this event, to enable the Bible Society to spread the Word of God to communities across the world that do not have the means to purchase Bibles.
The virtual event aims to be inclusive for all walks of life and athletic ability, whether you want to do a family 5km walk, or you miss getting those long runs in and want to hit the road for a long one. There is something for everyone, so make it a weekend for the whole family by clicking on your chosen distance below and enter today!
Every entry taken guarantees that we will be able to assist the Bible Society with one Bible for either an individual or church in need, as part of the 2 Million Bibles Project. For more information, please visit http://www.biblesociety.co.za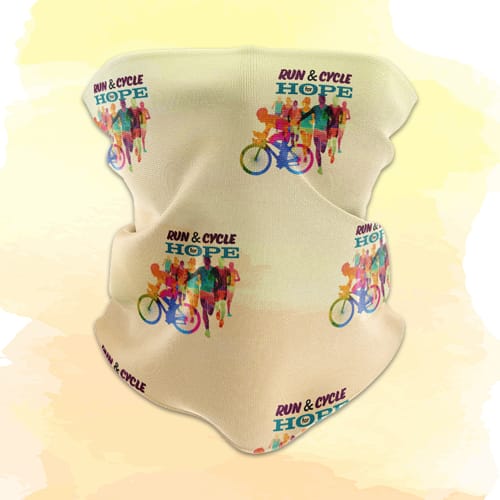 The 2021 edition of the event offers the following merchandise:
A Run & Cycle for Hope buff, which can be purchased with your entry, at a cost of R60.
A Run & Cycle for Hope moisture-management tee that is unisex in size. You can purchase the tee with your entry, at a cost of R165.
Our commemorative medal celebrates the 200th year of the Bible Society. It symbolises the journey we have undertaken to bring hope to South Africa through the Word of God, and spreading his message in the form of Bibles to those that would otherwise have no access. It's a symbol of hope and a celebration of the journey thus far.
Merchandise ordered before the 1st July 2021 will be delivered before race day through Paxi, our chosen courier partner. Any orders taken after the 1st July will receive their merchandise by the 1st October 2021 – this is due to ordering only the quantities ordered by entrants. We are able to accommodate bulk couriers for bulk entries of 10 or more entries, please contact the race office to facilitate.
The Bible Society of South Africa's Vision
It is the task of the Bible Society of South Africa to provide affordable Bibles for everyone in their own language, and in suitable formats, so that all may experience the life-giving message of the Word.
Thanks to our broadcast partner, Radio Pulpit, launching the Hope Movement Challenge, we've seen churches challenge other churches to join the Hope Movement, schools challenge other schools, Community organisations challenge other organisations, and sports clubs challenge other sports clubs.
We have spread our movement to over 700 new entrants through this challenge, and we want to include as many people as possible, so if you would like to get in on the challenge, mail us at info@runwalkforhope.com.  
Bring Hope into Action, join the
Hope Challenge!
We want to spread the Hope Movement this year and are calling on you to help us make this happen! All you need to do is challenge someone to join you at this year's Run & Cycle for Hope on social media!
You can upload a video, just write a post or do something really creative! It's completely up to you! Just make sure you tag our Facebook or insta in your post so we can find you!
We will be rewarding one lucky entrant with a two night stay for four at our title sponsor Ocean's Boutique Guest House, valued at R4000!
*travel to and from guest house not included
Get in Touch!
Click on the icons to follow us on social, or contact our race office by mailing info@runwalkforhope.com